Kundalini Chakras – Vishuddha chakra
Vishuddha chakra is associated with the element ether (Akasha) and controls the principle of sound related to the sense of hearing. The seed mantra is Ham and the vital breath is Udana.
In Vishuddha chakra the nectar amrita drips down the chitrini nadi, and is split into a pure form and a poison. Through practices such as Khechari Mudra and Jalandhara Bandha the nectar reaching Vishuddha is purified, the poison from the body is cleansed and amrita becomes the nectar of immortality. The nectar and poison originate from the Hindu episode of the churning of the Ocean of Milk in which gods and demons churn the ocean to obtain Amrita, the nectar of immortal life.
The moon encompasses psychic energy, clairvoyance and communication without words. In Vishuddha Chakra, all the elements of the lower chakras – earth, water, fire and air – are refined to their purest essence and dissolve into akasha.
The presiding deity is Panchavaktra Shiva. He has a camphor-blue skin and five heads, representing the spectrum of smell, taste, sight, touch and sound, as well as the union of all five elements in their purest forms.
Vishuddha Chakra
Vishuddha Chakra is situated within the Sushumna Nadi at the base of the throat, Kantha-Mula Sthana. This corresponds to Janar Loka. It is the centre of Akasa Tattva (ether element). The Tattva is of pure blue colour. Above this, all other Chakras belong to Manas Tattva. The presiding deity is Sadasiva (Isvara Linga), and the Goddess is Shakini. From this centre emanate 16 Yoga Nadis which appear like the petals of a lotus. The vibrations that are produced by the Nadis are represented by the 16 Sanskrit vowels:—Aö A:ö Eö Iö uö Uö ?ö @ö ;ö =ö Oö Oðö A:ðö A:òö Aö AH (aü àü iü ãü uü åü çü éü ëü íü eü aiü oü auü aüand aþ). Akasa Mandal (the region of ether) is round in shape like the fullmoon. The Bija of Akasa Tattva hö (haü) is in this centre. It is of white colour. This Chakra corresponds to Laryngeal plexus in the physical body.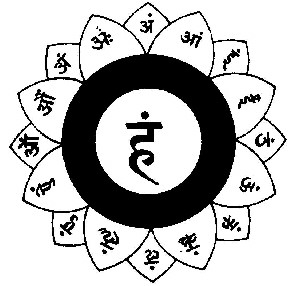 VISHUDDHA CHAKRA
The concentration on the Tattva of this Chakra is called Akasa Dharana. He who practises this Dharana will not perish even in Pralaya. He attains the highest success. He gets the full knowledge of the four Vedas by meditating on this Chakra. He becomes aTrikala Jnani (who knows the past, the present and the future).